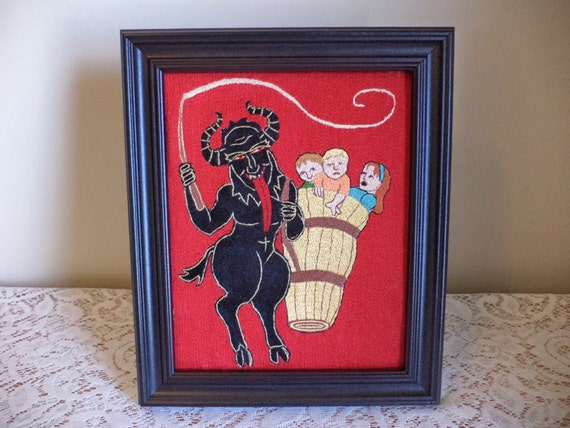 At this time of year it can be good to have an antidote to all the Christmas kitsch. That might explain why I love this embroidery by Julie of My Good Babushka; although it could also be her technique of completely filling in her embroidery with fill stitching (even the red background is stitched). It's still a seasonal piece; in folklore Krampus was said to punish naughty children during Yule. I asked Julie what inspired her in making this piece:
Most of my paintings and embroideries are inspired by my love of reading. I love folklore, witches and supernaturally tinged stories the best. I love any obscure histories from the medieval through Victorian era, stories that are marginally or partially true, the roots of anatomical science, sideshow ephemera, anomalous anatomies, and plain old entertaining lies. I would also like to emphasize that every stitch is handmade and all the designs are my own, so they are true one of a kind pieces.
If you'd like to see more of Julie's beautiful work take a look at her
etsy
and have a read of her
blog
in which she shares her in-progress photos and talks about her process. You can also follow her on
Facebook
. I really recommend that you have a look at her other work, she's done some beautiful embroideries and she makes gorgeous paintings too.
What are you stitching? Please share in the
&Stitches Flickr group
. We'd love to see it!